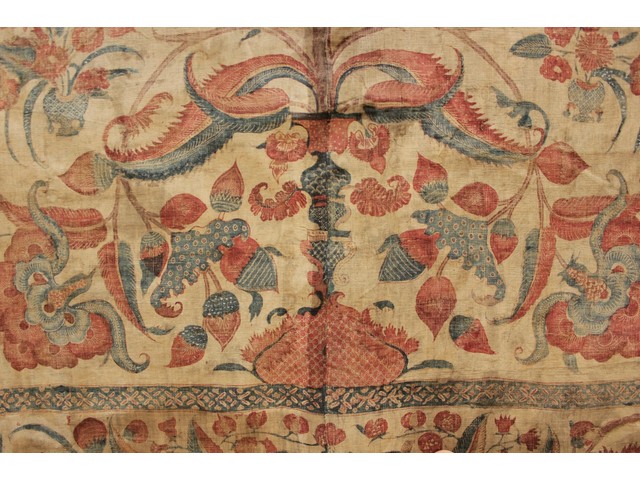 An extraordinarily impressive Indian chintz Palampore. This textile was made in India's Coromandel Coast in the late 17th or early 18th century, intended for export to Europe. This chintz hanging is mordant-dyed and resist-dyed. There is a wonderful central circular medallion and it is bordered with scrolling flowers in shades of red, blue, purple, brown and white. The ground tone has aged to a wonderful , pale putty tone. This hanging has a thin inner border, framed with a wide border around the edges. It is constructed using two individually painted panels seamed in the middle. The bottom of this palampore has a strip of 18th century printed cotton applied at a later date. The textile is backed in places (please see photographs). An extremely rare and beautiful example of Indian chintz. This textile is being held off-site so please anticipate some delay if questions involve specific information regarding the textile, thank you.
Other wonderful examples have recently been exhibited at the Metropolitan Museum of Art :
For further reading: Chintz, Indian Textiles for the West , Rosemary Crill
Textiles from India, the Global Trade, edited by Rosemary Crill
Trade Goods, Alice Baldwin Beer
MEASUREMENTS: 81.5 inches wide by 113 inches long (207 centimeters wide 287 centimeters long)
Condition: This palampore is generally in very good condition for its age, however is not without signs of time and use inherent with these pieces. This palampore has tears in places with one large tear on the top, right facing side edge (please see photograph). There is gentle fading. Please contact me for further condition information if this is important to your purchase.
Content and Images Copyright © The Textile Trunk 2007 - 2015 |
Privacy Policy